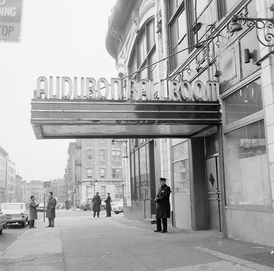 The Audubon Ballroom!
A monument to the success and ego of filmmaker William Fox, the Ballroom normally hosts vaudeville acts, but is also available for the dances and socials of wealthy Manhattanites. Tonight's fare, however, is something quite different, for this evening playgirl Margaret "Mags" Whitcombe has rented the place out for the debut of her personal teacher, the mysterious Eastern monk, Ramanuja.
It's a smaller affair than what is normally held at the Audubon; the queue of tittering flappers and dapperly dressed gents barely rounds the corner. Oh, the birds are roosting alright, but the doormen manage to move them along quickly enough to prevent any conspicuous accumulation of society types on the sidewalk. While the wait to get inside is very brief, a few snippets of conversation may be easily overheard if one bothers to pay attention.
". . . send a rope straight into thin air and have a monkey climb down with flowers for the dames . . ."
"Baby, those eggs don't know what they're missing – this fella's as genuine as genuine comes I'm tellin' ya! I've
seen
it!"
". . . not gonna make it through the night – but don't'cha gimme no lines about flying Orientals."
". . . into a trance and spilled the beans on Cholly to Mags, Mildred, God, and Creation. Ol'Ramanoony did Cholly in right then and there – you shoulda seen the look on his face!"
"I'm here for the monkey show."

"She found him in San Francisco. Came out one morning with – oh, what was his name? You know, the banker – and he was just sitting there on her doorstep legs tied up Indian style, eyes rolled back in his head – oh, here's my invitation."
A poster is sloppily pasted to the wall by the door. It occurs to you that Ramanuja might very well be at home among the magicians of Vaudeville after all . . .



(Ramanuja poster adapted by HomoDM from show poster for "Alexander: The Man Who Knows")